Dr. Vong was born and raised in Texas, residing in Odessa, Irving, Midland, Houston, and now Richmond. She knew at a young age that she wanted to be a dentist, and she has been passionate about serving her community ever since, volunteering at Texas Mission of Mercy, San Jose Clinic, Hope Clinic, Healthcare for Homeless, Give Kids a Smile, Telemundo Health Fair and more. She even traveled consecutively to Mexico and Honduras to serve families with no access to dental care and basic needs.
Dr. Vong graduated with dual degrees in Chemistry and Biology from the University of Houston and earned her dental degree from the University of Texas School of Dentistry. She has unique experiences in placing and restoring implants.  She is very passionate about making a positive difference in the lives of others, serving in mission trips in underserved communities.
DENTAL IMPLANTS
Dental implants in Richmond are an excellent solution to permanently replace your missing teeth. You'll enjoy a variety of benefits that aren't possible with any other treatment. Although you're excited to regain the next best thing to your real teeth, we know you still have several questions before you're ready to commit to them. Don't worry, we take the time to address your concerns and explain the process during your initial consultation. While you wait for your visit, here are the answers to a few of the most common questions we hear.
At our practice, we are committed to lifelong learning. Developing and expanding our dental implant skills through continuing education has allowed us to safely and effectively offer our patients this amazing alternative to traditional tooth replacement.Since their introduction to dentistry in the 1970s, dental implants have quickly become the preferred alternative to traditional bridges and dentures. Dental implants have a structure that mimics that of a natural tooth. As a result, patients can look forward to results that look and feel much more natural.
Call VL Dental today to reserve your implant consultation. Our office in Richmond, TX is proud to offer full-service implant dentistry to patients from Pecan Grove, Sugar Land, Rosenberg, Crabb, Booth, and all nearby communities. We look forward to serving you!
BENEFITS OF DENTAL IMPLANTS
There are many benefits of tooth replacement using dental implants, and these advantages are why so many patients and dentists are choosing implant supported tooth replacement over other restoration options. Some of the many benefits of dental implants include:
Implant posts replace the roots of lost teeth, ensuring your restoration will look, feel, and function just like healthy, natural tooth structures.
With the prosthetic root system in place, your supportive bone and gum tissue will receive the necessary stimulation to avoid resorption, the loss of soft tissue volume or jawbone density.
Fully self-supported, implant-retained restorations do not rely on surrounding teeth or oral structures for support the way that traditional bridges or dentures do. That means you retain the optimal level of healthy structure and avoid any unnecessary tissue loss.
After twenty years, implant supported replacement teeth have a 90 to 95% success rate. Traditional replacement teeth need to be repaired or replaced every five to ten years in order to ensure the optimal level of healthy function. Some people are able to maintain their implant supported replacement teeth for the rest of their lives.
INDICATIONS FOR DENTAL IMPLANTS
The dental implant procedure is completed in two phases. In the first phase of treatment, our Richmond, TX dental team will surgically place one or more implant post(s) in your jawbone. Not every dental practice can help patients with the first phase of treatment and need to refer patients to a specialist. At VL Dental, you can have your surgery completed in an office you already feel comfortable in, with a dental team you already know and trust.
The number of implants you receive will depend on the number of teeth we're replacing. One implant will anchor a single crown while multiple implants will anchor a partial or full denture.  Once your procedure is complete, you'll have time to recover before seeing us for the next phase. During your recovery, the bone tissue in your jaw will begin to fuse with your metal implant(s), creating a solid and very natural bond that will give you lifelike results when your entire treatment is complete.
In the restoration phase of treatment, our team at VL Dental will attach your new prosthetic. This service is versatile enough to be used by patients who need to replace just a single tooth, multiple teeth, or a full arch. In every case, our team will create a customized design that our lab will then use to craft a high-quality prosthetic.
PREVENTIVE DENTISTRY
MAINTAINING YOUR ORAL HEALTH
You will receive a customized, prescribed plan for how many visits you'll need per year. This will help ensure the best use of your time and investment in getting and maintaining great health and a terrific smile.
DENTAL SEALANTS
One of the easiest ways to protect teeth from decay are dental sealants. The best news…dental sealants don't take long, just a few minutes can result in years of protection for your teeth. They are especially helpful for children, as well as adults.
DENTAL NIGHTGUARDS
Some patients develop a teeth grinding habit in response to stress. What's more, many patients who struggle with this condition, which is known as bruxism, experience the most trouble during sleep. That's why the most common treatment solution is a custom-made nightguard. While you sleep, your nightguard will help you protect your teeth from the damaging effects of grinding and clenching, easing the uncomfortable symptoms of bruxism in the process. We can also talk to you about effective relaxation techniques that can help you reduce the stress in your life.
ATHLETIC MOUTHGUARDS
Athletes who play a rough contact sport aren't the only ones who can benefit from wearing an athletic mouthguard. The truth is, any athlete should wear one. Mouthguards protect the teeth and tongue from injury, and new research suggests they can even reduce the severity of concussions. If you or someone else in your family enjoys being active, no matter what the sport, let our Richmond dental team talk to you about the benefits of wearing a custom-made mouthguard.
CONE BEAM CT SCAN
When traditional X-rays are not enough, Dr. Vong may recommend a Green CT scan. This tool offers a detailed and comprehensive image of your teeth, nerve pathways, and more. It's captured in about a minute and the results are ready almost instantly! With its unique sensor technology, this method reduces radiation exposure while also improving the final image for the ultimate in informed treatment planning. Take some time to learn more about this tool and find out when you might need to have a Green CT scan taken.
HAT IS OZONE THERAPY USED FOR?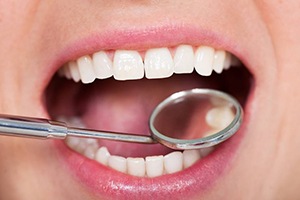 Because we are dedicated to the practice of conservative dentistry, ozone therapy will always be considered when infection or weakness develops in the mouth. Ozone has the same effect as white blood cells on infection — the molecules are able to penetrate the micropores of the tooth. The infection is treated within the tooth to destroy what is causing the inflammation, without killing off the good bacteria which promotes healing and long-term health. Using quick bursts of oxygen targeted precisely to the affected area, your dentist can treat problems without having to remove significant amounts of healthy tooth enamel to place a filling, crown, or to perform a root canal.
Ozone therapy may be used in the following cases:
For minor cavities, ozone can eliminate the need for drilling and correct the issue practically without discomfort
In conjunction with root canal therapy to eliminate the risk of bad bacteria entering into the oral cavity or bloodstream
Treating tooth sensitivity by rebuilding weak or worn tooth enamel
Treating recurrent cold sores/canker sores
Remineralization of tooth enamel
INVISALIGN CLEAR BRACES
Invisalign is a unique orthodontic treatment option that uses a series of clear alignment trays to gently shift teeth into their ideal position. Traditional braces achieve these results by using brackets attached to the front facing surfaces of teeth. Then, wires connect the brackets, and during frequent orthodontist appointments, we shift the wires to place pressure on specific teeth. Invisalign trays are each crafted to represent your smile one step closer to the desired end result, so as you wear the trays, they place pressure on teeth moving them into their ideal position. Then, patients simply exchange their current set of alignment trays for the next set in the series. The entire process is typically completed in a year or less.